Sun Blade Series Workstations
Global IT provides these Sun Blade series of workstations. We provide fully configured systems, upgrades, peripherals and spare parts. All equipment is fully tested, backed by a full 90 day warranty and can be shipped promptly. Contact us for more information and let us get to work for you.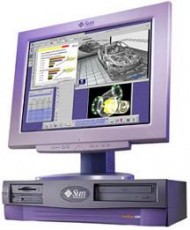 Part Number
Description
500MHz Ulta-IIe PROC, 2GB MAX MEM, 30GB MAX SCSI, 3-D GR...
600MHz/750MHz/900MHz Ultra III 2 PROC MAX, 8GB MAX MEM, ...
550/650MHZ Proc, 2GB Max Mem, EIDE Disk, PGX64 Graphics...
900MHz/1GHz Ultra II 2 PROC MAX, 8GB MAX MEM, 146GB MAX ...